Big boat The Lounge
Request a free quote
A wonderful boat to see the canals of Amsterdam.
Enjoy the view through the large windows, this boat is perfect for a group of friends. The Lounge was originally called the R0101, the first Giethoorn cruise boat with a license. During the renovation, we were inspired by the Amsterdam weather. In the fall we are surprised by horrible downfalls. While the cyclists step down and hide, The Club continues as our passengers just move inside. During winter the weather can change within hours. One moment you are sitting inside with a warm cup of tea, the next moment you can sit outside and enjoy the sunshine. Even the Dutch summers are often a combination of sunshine and thunderstorms. In short: The Lounge is the ideal boat for the unpredictable Dutch weather.

Standard private package The Lounge

- Cruise of 75 minutes
- Live host on board telling about the city and the Amsterdam Light Festival
- Drinks included (beer, wine, soft drinks)
- Minimum 30 persons, maximum capacity is 42 persons
- Getting on and off at the Hermitage (Amstel 51F)
- The sailing times of the standard packages are fixed and cannot be deviated from. Every day during ALF there are sailings at 17:15, 18:45, 20:15 and 21:45.
Request a free quote
Largest selection of boats in Amsterdam
Lowest price guarantee
Including captain
Free boarding in the centre of Amsterdam
You will receive a free quote within 24 hours
100% electric boat
Max 70 people
Has a roof
Toilet on board
Boat is electric
Music available
Heater on board
Open back deck
Catering possible
Corkage rate € 0.00
All inclusive drinks € 6.00 pp / hour
Other recommendations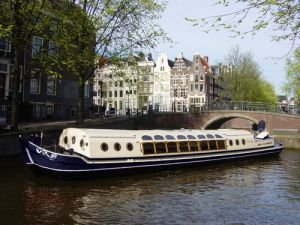 Big boat
Wilhelmus
€ 265 per hour max 60 people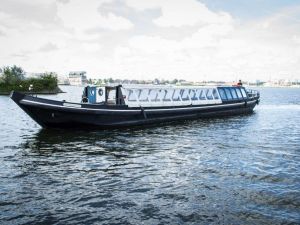 Big boat
Hildebrand
€ 265 per hour max 60 people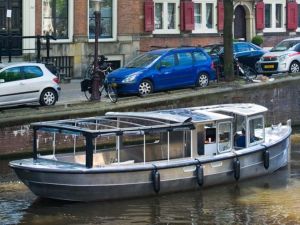 Classic boat
Suzanne
€ 200 per hour max 24 people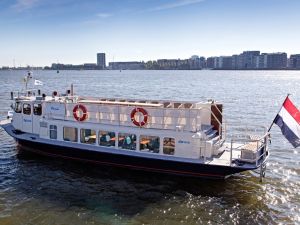 Big boat
Tanja
€ 225 per hour max 50 people