Open boat Oceans
Request a free quote
The Oceans is a robust sloop on the canals of Amsterdam. This lovely fully restored electrical lifeboat from 1959 is perfectly suitable for various types of events.
Events such as private or business boat tours, organized drinks with employees or clients, brainstorm sessions, meetings, marketing related events, walking dinners, weddings, seasonal events, VIP transport service and so on. Oceans has both a robust and luxurious appearance. The spacious front deck with its big pillows is the perfect spot to fully enjoy your tour in ultimate luxury. You can embark and disembark at almost any location in Amsterdam. Friendship Amsterdam's fleet cruises onto the Amstel river and through the canals of Amsterdam, it's speciality is to show not only the main canals of this Dutch capital city but also the smallest canals where bigger boats are not able to cruise through.

Our friendly captain and charming hostess will make sure everything goes to plan and that everybody's needs are met.

During the boat tour excellent catering is provided, besides serving a perfect serve rum & coke Friendship offers an extensive range of other drinks. We have composed different catering arrangements for any time of day, in cooperation with a selection of leading restaurants in Amsterdam.
Request a free quote
Largest selection of boats in Amsterdam
Lowest price guarantee
Including captain
Free boarding in the centre of Amsterdam
You will receive a free quote within 24 hours
Max 41 people

€ 275 per hour (inc. VAT)

Has a roof

Toilet on board
Boat is electric
Music available
Heater on board
Open back deck
Catering possible
Other recommendations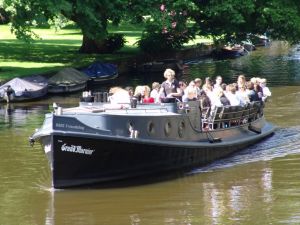 Open boat
HMS
€ 305 per hour (inc. VAT) max 50 people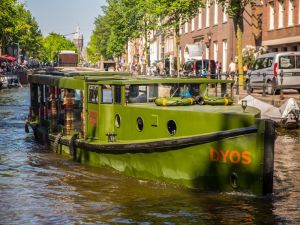 Classic boat
De Dyos
€ 375 per hour (inc. VAT) max 45 people
Open boat
AIX Sunshine
€ 275 per hour (inc. VAT) max 45 people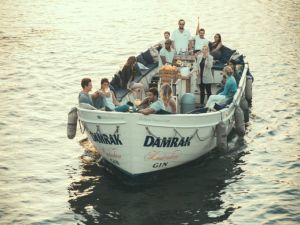 Open boat
Damrak
€ 305 per hour (inc. VAT) max 50 people