Croisière privée à Amsterdam
Pourquoi il faut naviguer à Amsterdam avec BoatNow ?

Sur la plateforme BoatNow, vous pouvez choisir le bateau idéal parmi plus de 100 options et organiser votre croisière exactement comme vous le souhaitez. BoatNow offre une expérience ultime sur l'eau. Naviguer à Amsterdam est impressionnat parce qu'il y a tant de choses à voir et à découvrir. Amsterdam compte 165 canaux, dont les plus connus sont les canaux Herengracht, Keizersgracht, Prinsengracht et Singel. En outre, vous pouvez profiter du centre historique de la ville avec son architecture, les nombreux ponts anciens et vous pouvez même naviguer le long du Red Light District, la maison d'Anne Frank, l'Amstel et les ports d'Amsterdam. Cependant, il y a encore beaucoup de choses à voir dans la belle capitale. Si cela vous intéresse, continuez à lire !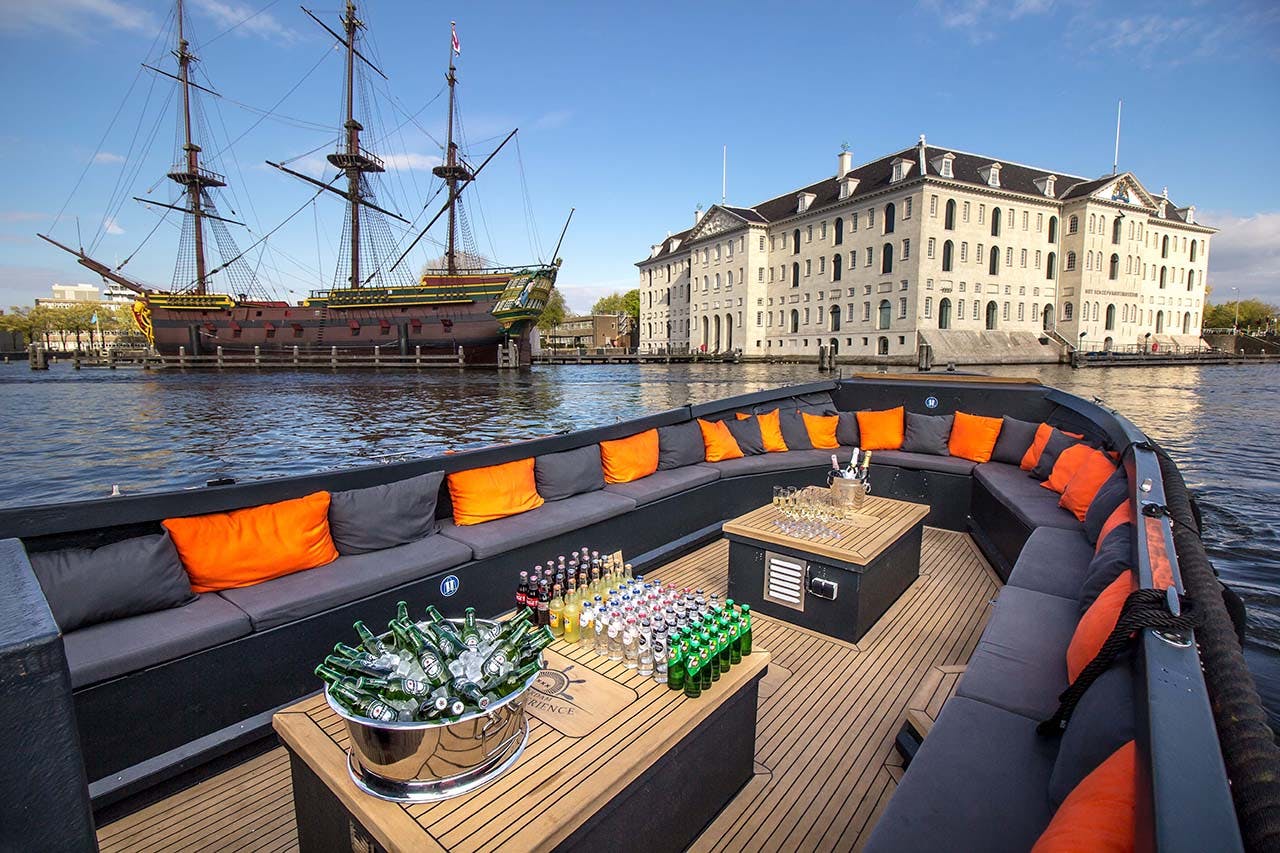 Sail the traditional classic route with BoatNow
The world-famous characteristic canals of Amsterdam have been recognized as UNESCO World Heritage since 2010. All this ensures that it is not only the busiest but also most pleasant sailing area in Amsterdam. The traditional route through the canals usually goes along the Singel, the Prinsengracht, Keizersgracht and the Herengracht with its beautiful Golden Curve and its beautiful historic buildings. On this spot you will find the famous 7 bridges and beautiful mansions that show how much wealth Amsterdam gathered in the 16th and 17th century. The route then continues from the canals in the direction of the hugely popular Jordaan. This former working-class district is now characterized by many restaurants, shops and workshops and you can still find the old-fashioned Amsterdam cosiness. One can see all this from BoatNow's sloops sailing across the Bloemgracht, the Egelantiersgracht or the Lijnbaansgracht. In conclusion you can sail towards the Red Light District at the eastern side of the city center. Here you have a view of the busy quays and alleyways, the cozy terraces and the endless stream of people who observe everything that God has forbidden.
Discover the rest of Amsterdam with BoatNow
In addition to the traditional and classic sailing routes, Amsterdam has much more to offer. For example, you can sail in different boats or other vessels from the center, across the IJ towards the Western port area or the other direction towards Amsterdam East where you can sail past beautiful residential areas, past Artis (the Zoo) and eventually you can end up on the Amstel river. Sailing across the Amsterdam IJ, you can see the historic city center and the architecture of the 21st century coming together. For example, one has a view of the Eye theater, new construction projects in Amsterdam-North, the Amsterdam Tower, the development of the Western port area, the beautiful new residential areas in the Staatsliedenbuurt and more.
Swimming in Amsterdam
Amsterdam offers many opportunities for its inhabitants to swim and cool. Reserve an open boat at Boatnow and sail to the Westelijke Eilanden, the Amstel river or the Omval and jump from your boat into the water. In these places you see Amsterdammers come together to enjoy the warm weather and each other's company. Book a drink and / or barbecue package and you're ready for a great day on the water!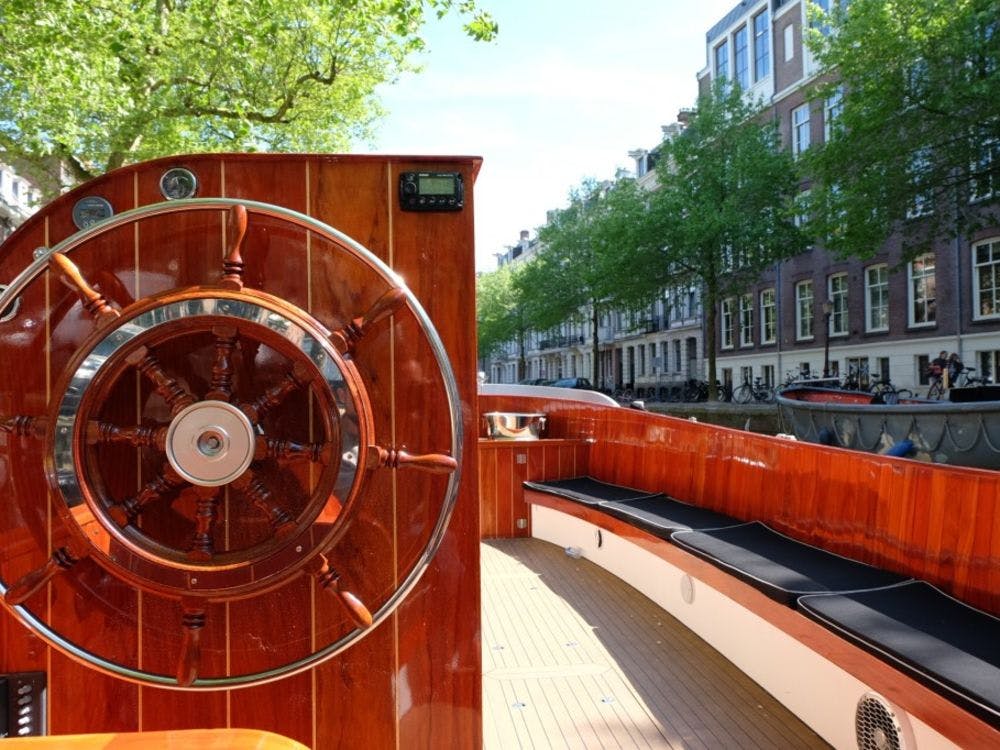 Enjoy sailing in an 'open boat' or sloop at BoatNow
By booking a private cruise in an open boat you can get to know Amsterdam in a comfortable way at its best. These sloops do not have a roof so you can stay in the sun and when you're mooring, you can easily get in and out to grab a terrace or go into a shop. BoatNow has dozens of open sloops in different price categories. You already have a ship including captain for 140 euros per hour. Then, in consultation with the captain, you can organize the cruise in exactly the way you want. Popular sloops on our website are for example the Nomag, the Majestic, the Boozer, the Nassau and the Havana. You can also request additional products including a delicious lunch, extensive dinners, barbecues and more! View our packages here.
Romantic or business sailing in a saloon boat
On the BoatNow platform, in addition to comfortable open boats, you will also find classic saloon boats with which you can enjoy a cruise on the Amsterdam canals in a stylish and luxurious way. This makes it an extremely suitable vessel for romantic dining with family or friends, or to invite relations. Contact BoatNow to personalize your cruise in exactly the way you like. Examples of our classic salon boats are the Sarah, the Zonneboot, the Valentine or the Iris.
Big boats for Events
On our platform you will find several large ships that are ideal for company events, parties and parties. These are boats with which you can sail comfortably with more than 60 people. There is, however, a small drawback, some of these powerful ships are too big for the narrow canals and low bridges. These boats therefore sail only over the Ij and outside Amsterdam. Examples of these boats are the Prins (500 persons), Het Wapen van Amsterdam (175 persons) and the Sailboa (180 persons). BoatNow has a separate page for business sailing. Do not hesitate to contact us for more information and opportunities for companies
BoatNow: the ideal boat reservation with a few simple clicks
BoatNow is an innovative and independent online platform where you can book private tours in Amsterdam. Through a specially developed mobile application and via the website you can rent a boat for any occasion and that fits your needs perfectly.
Great offer:
All Amsterdam Shipping companies with 100+ boats are connected to our innovative platform. This means that we have boats suitable for a fun day out with friends and family. Romantic trips for smaller groups, but also larger boats for company outings, bachelor parties and weddings.
The BoatNow mobile application
The BoatNow app available for IOS & Android devices allows you to complete the entire booking process with a few clicks. After downloading the app, choose the desired pick-up location and the type of boat. Within 60 minutes you can then enjoy the Amsterdam canals and everything else that makes this city so special. In addition, it is possible to follow the boats via GPS. Go to the Appstore now and download our app!